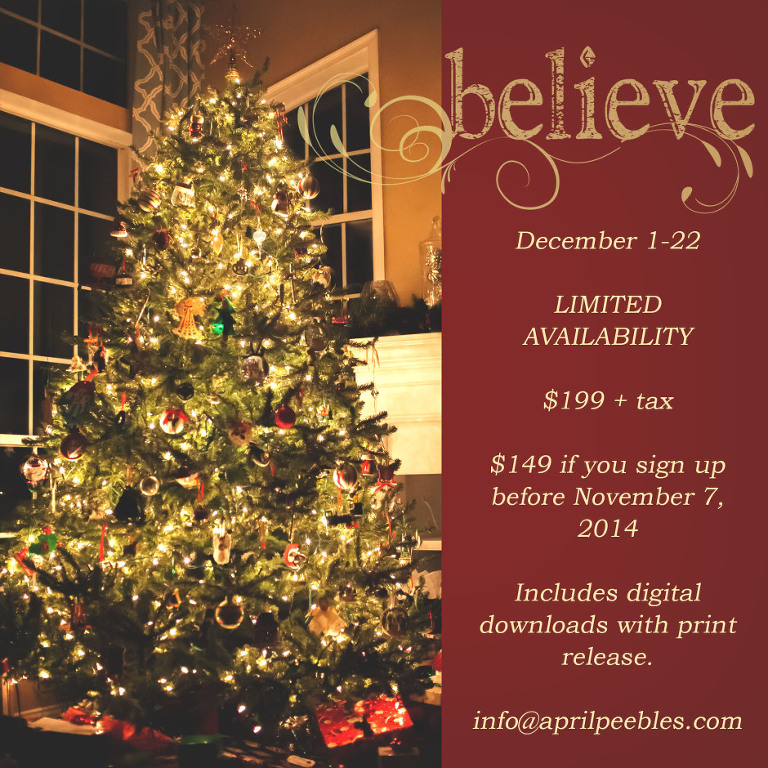 This session has been in the works for a while now . . . since last December, in fact. I love the holidays, and the one thing that reminds me most of the holiday season is the Christmas tree. I adore the warm glow of the lights, reminiscing of all the special ornaments, and watching it fill up with gifts from loved ones for the kiddos. This holiday season, I want to come into your home and capture a little of that special magic to keep all year long. Imagine your kiddos in some special pjs with a cup of hot chocolate or a candy cane, talking about their favorite ornament or just looking at the lights, and me there, in a no-stress environment, to capture them in all their wonderment and excitement.
THE DETAILS
WHAT: I plan to spend 15-20 minutes in a very relaxed, not-all-about-the-smiles (of course, we'll try to get some of those, too) session with your kids.
WHERE: Your home, in front of your tree.
WHEN: Various evenings from December 1-22. I will only book 2-3 evenings per week, but will have the ability to do multiple sessions per evening. First-come, first-served on dates and times.
WHAT'S INCLUDED: Your entire edited gallery of images from our time together – available for digital download.
COST: $199 ($149 if you book by November 6, 2014)
OPTIONS INCLUDE:
upgrade to a story-telling session (which will include more time and an album to pull out for years to come) when you book. What is a story-telling session? Check out this link to learn more. However, this upgrade is not shown in my regular offerings. Please email me at info@aprilpeebles.com for more details.
upgrade your downloads to a USB or CD of images
purchase prints and other products
TURNAROUND TIME: 4-6 weeks. Please don't plan on having these for holiday gifts because of that limitation.
REGISTRATION OPENS: 
Previous Clients: Now Booking!!
Email Newsletter Subscribers: October 30, 2014
Everyone else: November 1, 2014 (or sign up for my email list and get early access on October 30, 2014 – and you'll even get a reminder email!)
~~Be sure to email the studio at info@aprilpeebles.com or call April at 904.868.0732 to book your session~~
Comments
comments