Limited Spots Available!
About an hour outside of Jacksonville sits a privately-owned large field of wildflowers sprinkled with pecan trees. It's quite awe-inspiring to see all the beauty nature has to offer out away from the city, and these property owners are generous enough to allow photographers to bring their clients out here during the blooming period. I've been asked by several clients when I'm heading back out there, so here at last, for my newsletter subscribers first, are the extremely limited dates and times for the 2015 Wildflower Sessions!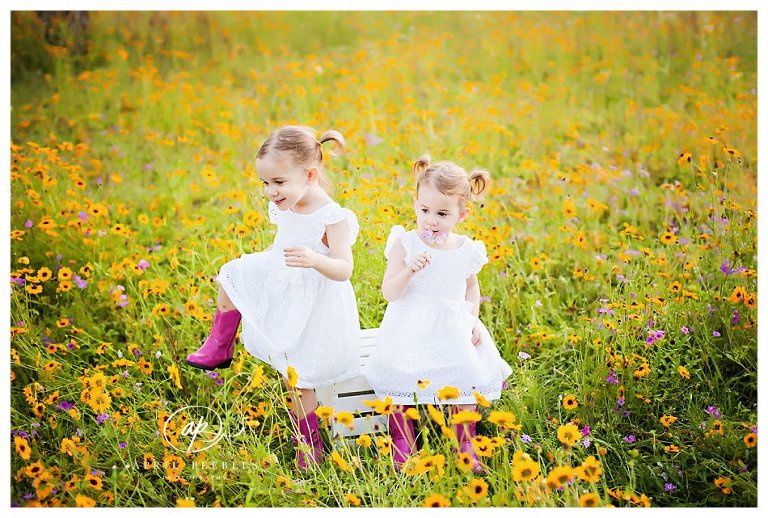 Tuesday, April 21, 2015
6:00 PM
6:30 PM
7:00 PM
7:30 PM
Thursday, April 23, 2015 –
These times are gone!
These dates and times are subject to change based on what Mother Nature has in store. The flower blooming period is not something that can be predicted with 100% accuracy, so if the fields aren't blooming on these dates, then we will have to move them further out into April or early May; and same goes for inclement weather.
Please visit this link if you'd like to check out last year's images, and head to this link when you're ready to book your 2015 Wildflower Session and fill out the inquiry form!
Your session will include:
20-30 minutes with April photographing your children and/or family (up to 5 people). Each additional person is $20 each.
at least 10 images in an online gallery with function for digital downloads for immediate use
a set of 3 mini-accordian albums (great for grandparents)
30% off of prints (from your Wildflower Mini only)
$299 + tax 
EARLY BIRD DISCOUNT!!

Sign up by Friday, April 10, 2015 for $50 off your session!

TERMS:Session is for up to 5 people. $20 per each additional person. All spaces are first come-first serve. Payment must be made to reserve your time (either with the $100 booking retainer or by paying in full). Payment in full is due one week prior to you scheduled session date. Payments can be made via Cash, Check or Credit. There are no refunds. Credit toward a rescheduled session is at the discretion of the photographer. Make-up days will be announced if the weather is an issue. Rescheduling at the discretion of the photographer. A link to the gallery of images will be emailed to you within 7-10 days and will include a code for download. All images will be fully-edited and ready to print up to 8×12. All images must be printed at mpix.com for the best print quality. Images printed elsewhere may not have correct color due to non-calibration of systems (such as drugstores and other online photo companies). There will be a charge for requested edits that go beyond the norm (fees will be discussed prior to charge). 30% discount on unframed prints is good toward your spring mini-session images only and cannot be applied toward any other sessions. A sample album will be provided by the photographer and one round of complimentary changes will be provided. All additional changes are at the rate of $50/hour.
Comments
comments