Questions to Ask a Newborn Photographer | Fleming Island, FL
Pregnancy brings a world of excitement, but it usually comes with a lot of overwhelm, too. What do you truly "need" from those baby layette checklists? What is the best car seat? Where will baby sleep? And many times parents don't realize that in order to book a newborn photographer, most book out months in advance. At the time of this writing, I'm booking newborns into MARCH 2017 and it's currently mid-October 2016. There's a lot more to consider when comparing photographers to be sure you're getting a professional and educated person to handle your baby other than just price.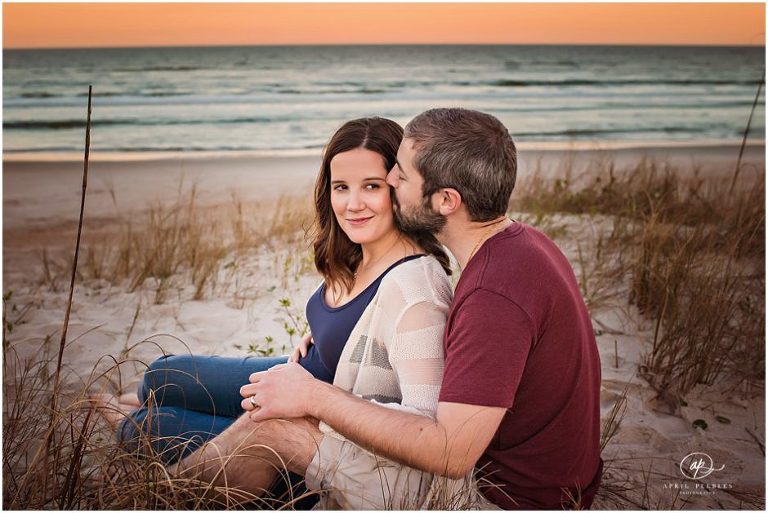 Unfortunately, because the world of newborn photography is so new and foreign to most parents, all they know is price and digital files, so that's what inquiries frequently ask about to compare. Unfortunately, there's a bit more to it than that and I'm here to help you! After all, your baby will only be able to get these poses for so long. Much like a wedding, after the photos have been edited and you finally see the results, your baby won't be quite the same as that moment when the session occurred. These questions are here to help guide you in this process. Having the answers from your preferred list of photographers will help get you the information you need to make an educated decision and peace of mind before, during, and after your session, making everything that much more enjoyable!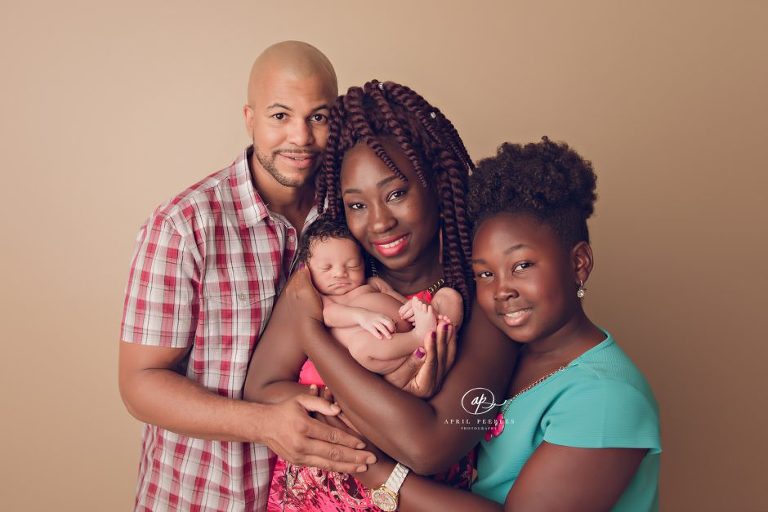 Have you taken any workshops or had any training on how to properly pose a newborn? I have taken several online workshops, a full day 1:1 mentoring session with Stephanie of Jaiden Photography, and another full-day workshop with Rachel Vanoven.
At what age do you prefer to schedule newborn sessions?

I prefer 4-14 days for in-studio posed sessions, and within the first month of life for lifestyle/documentary. I can be flexible with this, but it's best to discuss your particular circumstances with me in an inquiry. Most importantly, I want you to have beautiful keepsakes of your baby, whenever you're able to get them done. 

How long have you been working with newborns?

I began my path in newborn photography in May 2013. Of course, I've had newborns of my own, too. I know every baby is different, but have a good arsenal of things to try when baby is fussy. I also know that not every baby is going to go into every pose, depending on their weight and length and flexibility (some babies stretch out a lot faster than others).

Do you provide props (blankets, baskets, headbands, bonnets) for baby to use?

I do provide lots of options for props that I have purchased from trustworthy vendors who are good at knitting things that fit newborn appropriately and are stable to place a baby in. If you see something in particular that you like, please feel free to pick it up and I can do my best to work it into a session.

Do you do composites for difficult poses?

I definitely do composites for more "unnatural" poses and am fluent with Photoshop. I choose not to do composites frequently because more natural posing is a part of my style. If you'd like me to do a composite image during the session, please let me know in advance so we can do our best to get that pose. Not every baby will do the pose below, so even if you request it, it's not a guaranteed image in your gallery.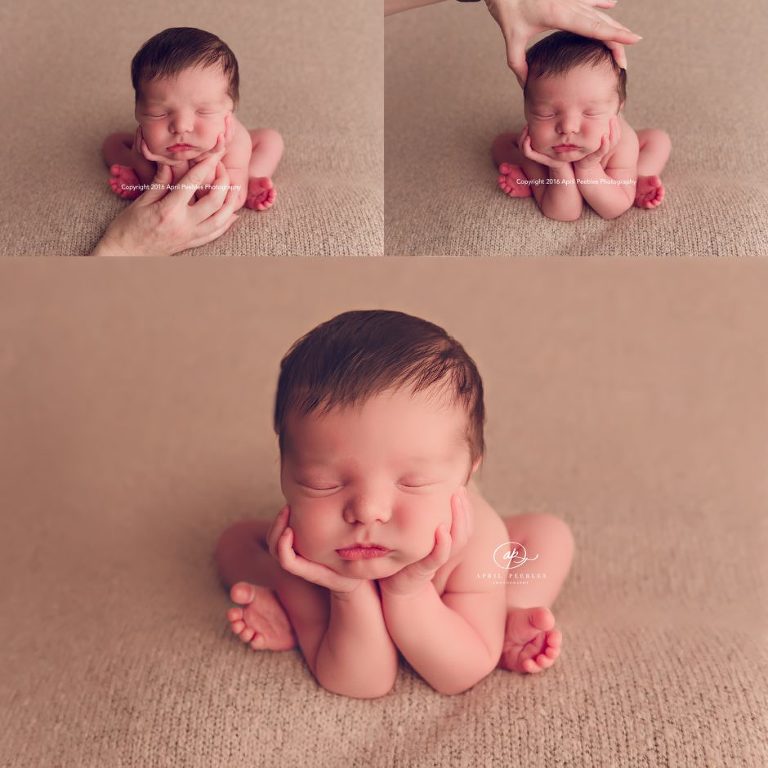 Do you have a studio or do you travel to my home?

I have a home studio that I use for posed newborn sessions, or I can travel to you for a documentary/lifestyle session. I also offer combo (lifestyle family and newborn posed) sessions so you can have the best of both types.

Our doctor has said not to take baby out of the house for the first two weeks to avoid germs and possible life-threatening illnesses. How am I supposed to get my baby to you?

This is part of the reason I elect to work out of my home. At least you're staying away from a public space like the mall where you have no idea who has come and gone. I do get the flu vaccine and stay current on the TDAPP (to protect from Whooping Cough) which is currently making a comeback in many states. I am also available to come to your home for a posed session if your space allows, though there is an additional fee.

My friend said her newborn photographer had her help hold blankets and get things for her. Will I be expected to assist with the session at all?  

You absolutely do not need to assist me with sessions. I hire an assistant that has helped me before and has learned my routine so our session can flow faster. You are welcome to relax on my sofa and enjoy a magazine or some television. Most parents end up grabbing a nap. I only need your help when baby needs to eat if you're exclusively breastfeeding and have not pumped or introduced a bottle yet. Of course, you're welcome to peek in on the session at any time to see how it's going. 

Are you insured?

Yes, absolutely.

Do you pay taxes? 

Yes, absolutely. I am an LLC through the state of Florida and pay federal income tax, as well as sales and use tax to the state and county. 

Do you feel comfortable with preemies?

Yes, I am comfortable with preemies. While it's been some time, my daughter was born at 27 weeks and was in the NICU for 2.5 months. In actuality, working with preemies is not much different than working with a newborn, except they may not be as flexible by the time they come in for their session. I usually don't recommend coming in until baby is at least 5 pounds. They tend to sleep better and images look better for your art piece.

Are parents and sibling images included with the newborn session?

That depends on which session you purchase. Please contact me for further details.

Will you give me an online gallery for me to select my images from?

I offer in-person reveal and ordering appointments so that you can make your selections with some guidance and have the ability to ask questions at one time rather than spending time emailing back and forth once you have a gallery. I know life is busy with a newborn at home and online galleries tend to get looked at quickly, sometimes uploaded to Facebook, and never really enjoyed or printed from. One of the most anticipated parts of working with April Peebles Photography IS the in-person reveal and ordering where we reminisce about the session (lots of ooh-ing and ahh-ing over how tiny they were) and you get to see and savor your images in a slideshow set to music. I do upload any purchased files to an online gallery for downloading and sharing, but only after they're purchased.

What is the turn-around time before we see our images?

Some photographers do not guarantee this at all, and some tell you it will be 4-6 weeks because they're inundated with other types of sessions. I only accept a limited number of newborns each week so that I can keep my turnaround time quick. I know you're excited to share your new little one with the rest of the world! I guarantee a turnaround of 2 weeks, having your reveal in the second to third weeks. I always ask that you bring your calendar to the session so we can schedule and discuss the reveal appointment before you leave. This way, it's done and off your plate! I even offer gift items such as mini-albums for grandparents and announcements for you to order so you can just enjoy baby snuggles more often.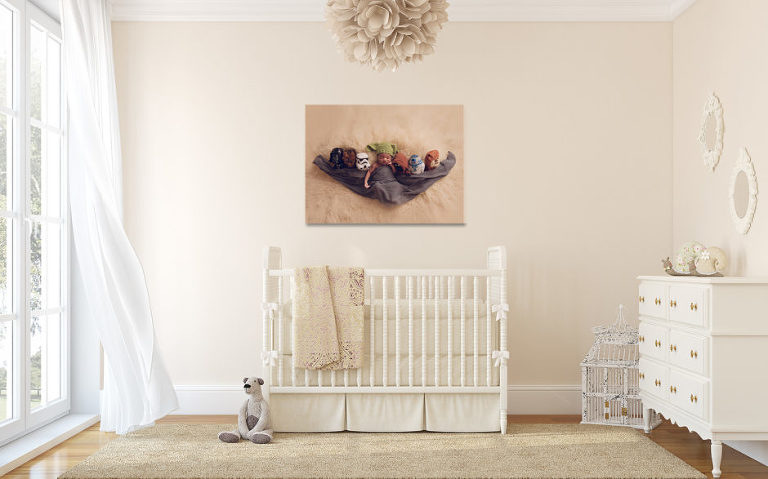 I hope these questions help give you some guidance to ask other photographers in your search for the "right one." While I  would consider it a huge honor to work with you, I know I am not the photographer for everyone, and that is OK! Please consider what's most important to you and your family before making your decision.
---
April Peebles is a boutique portrait photographer located in Fleming Island, FL but regularly serves the surrounding Northeast Florida area. Her clients are regularly coming from St. Johns, Ponte Vedra Beach, Jacksonville Beach, San Marco, Northside, Southern Georgia, and even St. Augustine. She is also available for travel worldwide. If you'd like to discuss having her photograph your newborn (or other session), please fill out this contact form or call her at 904.373.8439. 
Comments
comments