Maternity
When is the best time to take maternity photos? You should schedule as soon as you know you want to do maternity photos, and plan to take your pictures between 32-35 weeks. Ideally, you want that round little bump phase, not the "is she really pregnant? She just looks like she gained a little weight," phase. Nor do we want the "Is she past her due date?" phase.
What should I bring with me to wear for my maternity photos? Plan to wear loose fitting pants (think yoga) and either a strapless bra or tube top under a shirt so we can get those tummy shots! If you don't feel comfortable baring your belly, that's okay too. Just wear clothing that shows off your bump (i.e. fitted shirt over jeans, or a beautiful dress). Feel free to bring multiple outfits! It's important to look cute, but you (and baby) should be comfortable, too! I also a few options for a more styled look, and am happy to share ideas and assist you in wardrobe selection and purchasing if you know there's a particular feel you're going for.
Is there anything else I should bring with me the day of the photo session? A bottled water or two, some comfortable shoes, an ultrasound picture, and a happy and reflective attitude. 😉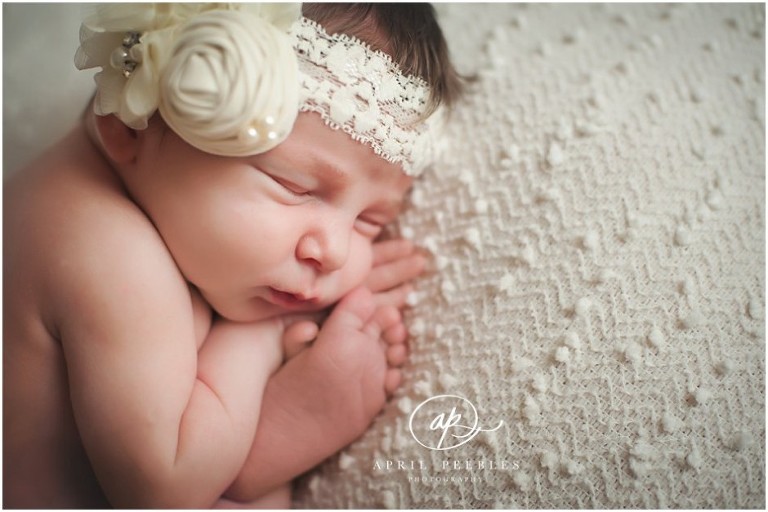 Newborn
When should I schedule my newborn's session? You should schedule your newborn session late in your 2nd trimester, or early in your third. I typically book up 4 months in advance, with very limited availability in the summer months and over November and December. Newborns are best photographed 4-14 days after birth, and booking early allows me to block that time aside for you. It's also best to wait five days after little boys have been circumcised, if you chose to do so. Newborns sleep a lot during this time, which allows us to move him/her around without waking. The images that are most coveted from posed studio sessions are easily created early in your newborn's life. The older your baby gets though, the harder it is to capture them because they're sleeping less and their muscles have gotten stronger and joints less pliable. These sessions are booked with a session retainer, with the balance due upon booking or before 30 days prior to your due date.
Why does a newborn session last 3-4 hours? My priority is ensuring that your precious baby is safe, comfortable and in a calm environment. Your newborn needs to be asleep for most poses on their tummy and many prop poses, too. The session may be up to four hours to allow your newborn time to feed and snuggle as needed, before going back to sleep. I want to make sure you get the best possible images and this is why I provide you with a PDF prep guide to follow in the days leading up to your session.
What should I do to prepare for my newborn's session? Cut their nails if they are long or jagged so they don't scratch their skin. Feed your baby two hours prior to session time, and  right before your session begins. It often helps to keep them awake before coming the session and then try to hold off feeding them until right before the session begins if you're more than 20 minutes away from the studio. Use lotion on any dry, flaky skin; especially on the fingers. Have a pacifier on standby (even if they haven't used one yet) as it may help to soothe them. If your baby gets hungry, be prepared to feed him/her. If you bring a bottle, I'm happy to feed baby for you, too and you can just take a nap on my sofa.
What happens if my baby pees or poops on your things? Don't worry . . . it's all a part of the process. Pretty much everything is washable and I do wash my items with Dreft after every session.
Do you have props such as baskets, headbands, and hats with you? Yes! I try to provide a variety of props that fit my style so you don't have that added expense. However, if you find something that's totally to die for or given to you as a gift, feel free to get it! You are more than welcome to provide a special blanket or lovey for me to use with your baby. Wondering where to look? I have a few favorite vendors I can send you to if you let me know you're looking. You must be careful with many vendors out there because their props end up too large for a newborn, or they can flake out on you.
I'm really wanting that specific pose with baby's legs up by their head. Can you make sure to get that one pose no matter what? I always try to get a variety of poses and props, but nothing is guaranteed. I take my cues from the baby and if baby's not happy, it's not going to happen. I will move on to something else, and will try and come back to that pose or prop if I know it's really important to you, but sometimes I'm sorry, I just can't make it happen.
Do you sell just the digitals? Yes, purchasing the digital files are an option, but you will receive a better deal on getting your entire gallery with the "Create Your Own Collection" option. I can understand wanting to have the safety net of the digitals, but I do archive anything you purchase for as long as possible and I find that most of my clients never revisit these images once
Ok, all this sounds great! What do I need to do in order to get on your schedule? Wonderful! I can't wait to meet with you and collaborate on your beautiful newborn images. Please fill out an inquiry form (or use the contact me buttons) and I'll be in touch. After we speak, you'll be expected to complete and sign an online contract within 48 hours for me to continue to hold your due date for you, as I do only book a max of two newborns a week. The session retainer (or pay in full) option will be at the end. If you elect to just pay the $100 now, you'll be responsible for paying the remaining balance 30 days prior to your estimated due date. All product purchases are taken care of at your Reveal and Ordering Appointment.
If you have any other questions, please feel free to contact me using the link in the top right.
 April Peebles | 904.868.0732
Serving Northeast Florida and available for Worldwide Commissions
Ponte Vedra | Jax Beach | Riverside | San Marco | Mandarin | Fleming Island